To accompany our conversation with Jonathan Shandell and Jerrell Henderson, here are some of the images from Federal Theatre Project archives relating to the shows that we discuss in the episode:

Jericho (including rare production photographs of Casco Alston and other cast members):
Program for One Third of a Nation, including an insert that mimicked an actual newspaper story about local housing issues: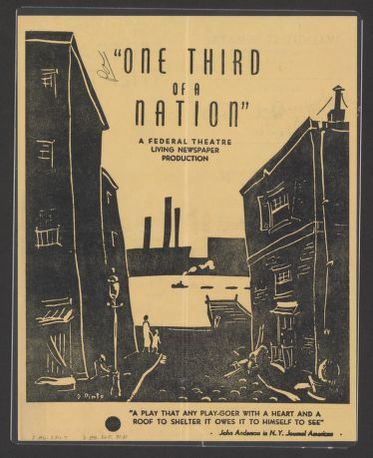 Program cover and interior matter for the opening night of the June 1939 production of Prelude to Swing. The red stamp of "June 12" was added after Hallie Flanagan postponed the show's premiere from May 25th.




Review from the Philadelphia Tribune, June 1939 (Courtesy of the Free Library of Philadelphia):



A selection of three posters from the Federal Theatre Program's shows at the Walnut Street Theatre. The odd prices for tickets listed on the middle poster for One Third of a Nation may be due to the fact that Congress' original authorization for the FTP did not technically allow them to charge admission for their productions, though the local units sometimes still did to offset expenses. Strict accounting rules made for irregular price points, however. Over half of the FTP shows charged no admission at all.


For more about the the third poster, the infamous production of Spirochete at the Walnut, see our podcast's Facebook page post from February 1, 2022:
https://www.facebook.com/AITHpodcast/posts/304289788426426

And for more about the banned production of Langston Hughes' play Mulatto (which we also reference in this episode), see our Facebook page post from December 6, 2021:
https://www.facebook.com/AITHpodcast/posts/267831825405556