Print of a young Louisa Lane, portraying multiple characters in the play Twelve Absolutely, 1828. (Collection of the Harry Ransom Center, University of Texas, Austin)

Below, an image of the silver medal that Edwin Forrest presented to little Louisa after she acted the role of his son in the play William Tell, and she stood bravely while he shot an arrow at her head. The photo was published in her 1896 Autobiographical Sketch, and the book also states that medal was in the possession of her son John Drew, Jr. Also from her son's collection, there was the bottom of an 1828 playbill for the Chestnut Street Theatre in which Louisa played all four characters in The Four Mowbrays.




I've yet to come across any images or prints of Louisa Lane in the years between her early success as a child star and when she was an actress in her mid-twenties. So we skip ahead over the entire decade of the 1830s . . .

Below left is Louisa Lane Hunt (as she was called then) at the age of 24, in costume for Fortunio and His Seven Gifted Servants at the Park Theatre in 1844. The play, billed as "A Fairy Extravaganza in Two Acts", had been composed by the writer and designer J.R. Planché, and had been produced with great success in London the previous year. As we mention in the episode, Louisa frequently performed these 'breeches' roles, as well as plays in which she played multiple characters, both male and female. She's clearly quite pleased with her costume! One reviewer wrote: "Mrs. Hunt in the role of Fortunio, evinces a versatile talent, together with much mimicry and burlesque action; indeed in this performance she had shown herself as an actress of more merit then even her friends have hitherto given her credit for. . . The house honored her . . [by] calling her forth at the termination of the piece, to receive personally their need for applause." She was to repeat the role several times during the decade. For those who are interested, a copy of the script can be viewed here: https://archive.org/details/fortuniohisseven0000plan/mode/2up

Below right, next to Mrs. Hunt, is a picture of her husband at the time, Mr. Henry Blaine Hunt (1796-1854). This is the only image I have ever seen of Mr. Hunt, and I am not exactly sure what play "Lord William" appears in or where Hunt was performing it. The only thing we can be sure of is that somehow he was singing in this role - his reputation was chiefly as a 'ballad singer', and he tended to work a song into whatever role he played. What we also know is that Mr. Hunt, in his youth, was a member of a very 'fast set' of young men who were the boon companions of the much older Prince of Wales, the future King George IV, who reigned from 1820 to 1830. So why was Hunt in America and not taking advantage of his connection to royalty? There is some indication that he and his friends had been accused in covering up a scandalous murder back in London, and that he had thought it best to leave the country. By 1828 he, like his much younger future bride, was performing in the United States.

After their divorce in 1847, she seems to have taken no interest in her ex-husband, and in her memoirs does not comment at all upon his death in 1854.
I have never yet come across a picture of George Mossop, who was briefly married to Louisa in 1848, before his death. But, as I mention in the episode, there is this very intriguing entry in the scrapbook that contains all the articles published in the Philadelphia Journal, which is usually referred to as Charles Durang's History of the Philadelphia Stage. The six volumes were compiled in the 1860s, with the assistance of Thomas Westcott. It may have been Westcott who made the following entry in the register of maiden and married names of American actresses of the era in Volume Six:


As can be seen, between "Geo. Mossop" and "Jno Drew" there is another name which seems to be "Geo. Jamieson". Again, as I say in the episode, I have no idea if Durang and Westcott are correct here. All I'm saying is that it is possible that Louisa and Jamieson were a couple at some point in the 1840s. It's perhaps a bit presumptuous of me to mention it at all without doing further research, but maybe some other enterprising scholar could run the truth of this rumor down. (Both George Mossop and George Jamieson were in the acting company of the Chestnut Street Theater in the mid-1840s, when Charles Durang's daughter was also employed there, it turns out. So he might have been in a position to observe something, as it were, and just quietly made a note about it.)

At any rate, many things about Jamieson would have certainly appealed to Louisa, based on what we know about her - he was an older man, he was Irish, he was a bit sexy and endearing, and he was an actor. Although he was trained in the family business as a 'lapidary' (someone who shapes stones and gems) he had followed his impulse to go on the stage. In the 1840s he had some success in New York and Philadelphia, mostly acting secondary leads onstage with such actors as Edwin Forrest. But in the early 1850s, after Louisa had gone off to become Mrs. Drew, George Jamieson became enamored of Forrest's wife, and sent her some very compromising letters in which he addressed her as 'Consuelo'. All this and much more was revealed in great detail during Forrest's famous divorce trial. He died in 1868 when he was hit by a train. Here is playing Brutus, at about the time Louisa might have, um, known him well.


At any rate, we DO know that the relationship with Jamieson, if it happened, could not have lasted long. Because in 1850 Louisa was definitely marrying the much younger man John Drew, and by the 1850s she was setting up housekeeping with him and their growing family in Philadelphia. Below are some photographs of John Drew. To the left is one of his "Stage Irishman" characters, and to the left he is playing Sir Andrew Aguecheek in a production of Twelfth Night at the Arch Street Theatre. Louisa played Viola in that production, and of course would have had a comic duel onstage with him during the course of the play. John and Louisa rarely performed as a romantic couple in plays, since their particular 'lines of business' rather prevented it.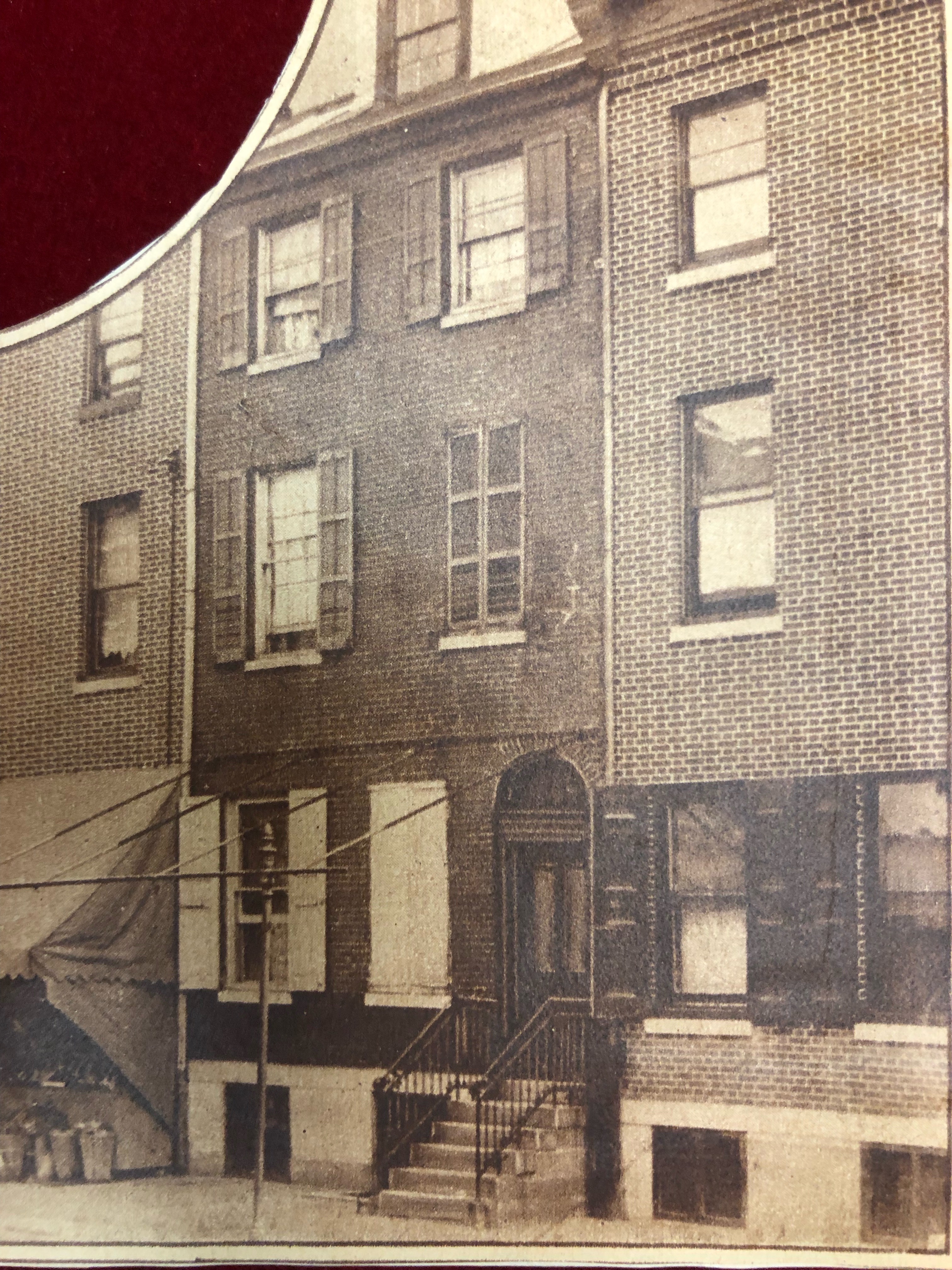 Above is a photo of the 709 S. 10th Street in Philadelphia, where the Drews were living in 1853 when their son John Jr. was born in November (clipping from the Theatre Collection of the Free Library of Philadelphia). Below are photos of Louisa and John Drew Sr. in the mid 1850s that were published in John Jr.'s own autobiography.

Below, two amazing photographs of Louisa Lane Drew as she appeared on the stage during these years. To the left, I believe she is modeling the costume for the character of Marguerite in Camille, an adaptation of the Dumas play she appeared in at the Arch Street Theatre during her first season there in the Fall of 1861. This image was found in the collection of the Harry Ransom Center at the University of Texas, and I am very grateful to librarian Eric Colleary for bringing it to my attention. (Note: I have 'cleaned up' the image a little, and removed some dark spots that have marred the photo over the years. I also heightened the color and contrast so you can see it more clearly.) The other photo is of Louisa as Ophelia in Hamlet, possibly from one of the occasions she appeared with Edwin Forrest. The photo was at one point in the possession of her son John Jr., who really seems to have taken the lead in collecting family history and memorabilia. Louisa never really seems to have done so herself, although she did like surrounding herself with portraits. There is supposedly a painting of her done by Thomas Sully, but I've only seen bad reproductions of it. It was at one point listed in the collection of John Jr., and perhaps is now in the ownership of his descendants.
The Arch Street Theatre as it appeared in the mid 1850s, when William Wheatley and John Drew took over its management. Though it's difficult to make out the details of the billboard propped up on the steps, the names "Wheatley & Drew" can be made out at the top. At that point the theater's facade was still configured in the original 1828 design by the architect William Strickland. When she became the manager, Mrs. John Drew would oversee a significant redesign of the front of the theater building in 1863 - as we shall detail in our next episode. See the blog post for Episode 19 for a photo of the New Arch Street Theatre after it was rebuilt.
Selected Bibliography

Books & Dissertations:

Alpert, Hollis, The Barrymores, The Dial Press, 1964, pp. 3-67.

Barnes, Noreen Claire, " 'Actress of All Work': A Survey of the Performance Career of Louisa Lane Drew", PhD Thesis, Tufts University, 1986.

Davis, Andrew, America's Longest Run, A History of the Walnut Street Theatre, The Pennsylvania State University Press, 2010, pp. 112-123, 169-178.

Drew, John, My Years Upon the Stage, E.P. Dutton & Co., 1922.

Drew, Louisa Lane, Autobiographical Sketch of Mrs. John Drew, with an Introduction by her son John Drew, (notes by John Taylor), Charles Scribner's Sons, 1894.

Durang, Charles, History of the Philadelphia Stage, Between the Years 1749 and 1855, Volume 6. Arranged and illustrated by Thompson Westcott, 1868. (Available online courtesy Penn Libraries, Colenda Digital Repository)

Glazer, Irving R., Philadelphia Theatres, A-Z: a Comprehensive, Descriptive Record of 813 Theatres Constructed Since 1724, Greenwood Press, 1986, pp. 61-62.
Morgan, Kathleen Anne, "Of Stars & Standards: Actress-Managers of Philadelphia and New York," PhD Thesis, University of Illinois at Champaign-Urbana, 1989.

Peters, Margot, The House of Barrymore, Alfred A. Knopf, 1990, pp. 9-45.
Turner, Mary M., Forgotten Leading Ladies of the American Theatre, McFarland & Company, Inc., 1990, pp. 86-101.
Articles and Websites:

Bank, Rosemarie K., "Louisa Lane Drew at the Arch Street Theatre: Repertory and Actor Training in Nineteenth-Century Philadelphia," in Theatre Studies, No. 24125.

Lindsay, Suzanne Glover, "The Drews and Barrymores, a Theatrical Dynasty at St. Stephens", blog post on St. Stephen's Episcopal Church website, dated September 5, 2019. https://www.ststephensphl.org/news/drews-barrymores-part-1/9-2019

Pawlack, Debra Ann, "Lady in Charge," Pennsylvania Heritage (website), dated Summer 2014. (Originally an article in Pennsylvania Heritage Magazine, Volume XL, Number 3) http://www.phmc.state.pa.us/portal/communities/pa-heritage/louisa-lane-drew-lady-in-charge.html

"A Veteran Actor", The New York Dramatic Mirror, August 17, 1901. (Interview with John. L. Saphore. Accessed via Old Fulton New York Postcards website)

"My Reminiscences", Ethel Barrymore scrapbook. Spencer Berger Collection on Film, Theater, and Music. Yale Collection of American Literature, Beinecke Rare Book and Manuscript Library online collection. https://collections.library.yale.edu/catalog/17175826